Nutritional Supplements for Your Dog's Health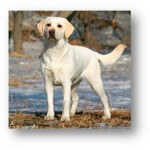 Here at Sweetwater Nutrition we are commited to producing high quality supplements for dogs of all ages and types. We're dog people too and we understand that your dog is more than just a pet, he's a member of the family. That's why we use human grade ingredients in all our products and manufacture in FDA approved GMP facilities located in Southern California.
When browsing the aisles of "big box" stores or searching the internet you'll see a lot of choices in dog supplements. We'd like to encourage you to read the labels and pay close attention to the ingredients and potency. After doing your comparison research, we feel confident you'll see what a superior and economical choice our dog supplements are.
100% Satisfaction Guaranteed
We hope that you'll try our products and we are so confident that you'll love the results that we offer a "no hassle" return policy. If for any reason you are not satisfied, just send back the unused portion within 30 days and we'll refund your purchase.
Catalog of Dog Supplements
Below you'll see our complete catalog of supplements for dogs. You can get more detail about a product by clicking on the product image.
Joint Support
We offer 3 different levels of Joint Support supplements for dogs. You can see the differences in the product comparison chart below. We recommend our "InflamAway ES" joint supplement for younger dogs who may be in the "Early Stages" of joint or cartilage issues as a proactive approach. Then we move up to "InflamAway Plus" which adds Chondroitin and MSM for a more comprehensive formula. Finally our most potent formula "InflamAway HA" adds 20mg. per tablet of Hyaluronic Acid. You can learn more about these ingredients (like the amazing herbs Boswellia and Curcumin!) on our:
Skin and Coat Products for Dogs
Whether you choose the convenient Soft Gel or Liquid versions of MaxiDerm EFA, you'll be giving your dog the same great health benefits. MaxiDerm dog supplements provide a more complete formula than fish oil alone. Organic Flax Seed, Fish and Sunflower oils are combined with B-complex vitamins for the Omega 3 & 6 essential fatty acids your dog needs for a healthy skin and coat!