InflamAway Plus
Hip and joint support formula
Safe alternative to damaging NSAIDS
Glucosamine Chondroitin and MSM for Dogs
Potent anti-inflammatory botanical compounds including Yucca, Curcumin and Boswellia
500mg Glucosamine HCl per tablet
Now with a delicious hickory flavor!
100% Satisfaction Guaranteed
Ingredients Reviews Directions Benefits Shipping
Glucosamine Chondroitin and MSM For Dogs
InflamAway Plus is an advanced joint supplement specially formulated with Glucosamine, Chondroitin and MSM for dogs that helps support healthy joint function. Your dog's joints work hard, and natural fluids help keep cartilage healthy by lubricating the joints. But normal wear and tear, age, injury or degenerative diseases can take its toll. You can help your dog maintain good joint health and mobility by adding InflamAway Plus hip and joint formula to his daily care program.
Formulated without artificial fillers, InflamAway Plus contains 500 mg. Glucosamine HCl, 100 mg. Chondroitin Sulfate, MSM, Yucca and Vitamin C, making it an extremely powerful joint support formula. Glucosamine, which is a natural compound found in cartilage and other connective tissues, works to control inflammation and maintain and repair joint cartilage. Glucosamine comes in two forms (hydrochloride and sulfate), we use Glucosamine Hydrochloride (HCl) in InflamAway Plus. While both forms have been shown to be effective, we believe the more concentrated HCl form is superior as it delivers on average 25 – 30% more Glucosamine for a given weight than the sulfate version. InflamAway Plus provides your dog with a highly pure concentrated source of Glucosamine that can be readily absorbed into his system.
InflamAway Plus effectively combines the Glucosamine with high grade Chondroitin Sulfate, which studies suggest inhibits enzymes that destroy cartilage and assists in the production of synovial fluid and collagen. Research indicates that Glucosamine and Chondroitin Sulfate are complementary and are more effective on joint function when combined together. And vital to joint, tendon and ligament health, MSM is a naturally occurring sulfur compound that helps fight inflammation and supports the formation of strong connective joint tissue. For best results, use InflamAway Plus with Super Oxy Green.
My oldest dog (13-year old Doberman/Shepherd mix) has been struggling with arthritis for the last year or so (with a definite decline in the past few months). I really noticed a difference in his behavior/mobility after putting him on InflamAway Plus. I'm a big fan of yucca as a natural anti-inflammatory and pain reliever, however, it's not available in very many quality supplements on the market. I'm grateful for this product, as it really seems to be helping the old guy get around more comfortably. (TB – Michigan)
InflamAway Plus Benefits:
Supports healthy joint and soft tissue function
Glucosamine Chondroitin and MSM for Dogs
Botanical anti-inflammatory compounds including Yucca, Curcumin and Boswellia
Delicious hickory flavor that your dog will love! ​
Feeding Directions:
Dogs under 10 lbs – ¼ tablet
Dogs 10 – 25 lbs – ½ tablet
Dogs 25 – 50 lbs – 1 tablet
Dogs 50 – 100 lbs – 2 tablets
Dosage may be doubled for the initial 4-6 weeks.
Ingredients (per tablet):
Glucosamine HCl

500mg

Yucca Powder

300mg

MSM

200mg

Chondroitin Sulfate

100mg

Calcium Ascorbate

100mg

Curcumin C3 complex® *

25mg

Boswellia Serrata Extract

25mg

Licorice Root Extract

25mg
Other Ingredients: Dextrose, Yeast, Natural Non Animal Derived Flavors, Cellulose, Stearic Acid, Sodium Chloride, Silicon Dioxide, Magnesium Stearate. Note: Safe use in pregnant animals or animals intended for breeding has not yet been proven.
* "Curcumin C3 complex® " is a registered trademark of Sabinsa Corporation.
You May Also Like: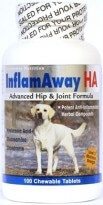 InflamAway HA
All the benefits of InflamAway Plus with the addition of Hyaluronic Acid
Orders Totaling Over $35 Ship Free!


$19.95 – $70.99Select options
InflamAway Plus
Now with MSM and Chondroitin
Orders Totaling Over $35 Ship Free!


$29.95 – $55.95Select options
What Others Are Saying:

C.H. – New York
Ten years ago, I started giving my older German Shepherd dog Super Oxy Green and InflamAway Plus. These supplements gave her a few more wonderful years with me – even my vet was surprised!

G.C. – Kingman, AZ
I bought InflamAway Plus and 24 hours later my dog was up and walking! Great stuff – would recommend it for acute lameness.

L.T. – Minnesota
Our dog has suffered from arthritis for years. After taking InflamAway Plus dog joint supplement for a few days, she was moving around a lot better. She even went up & down the stairs several times, which she hasn't done in years! Great purchase!

Michigan
InflamAway Plus is a super product. It contains yucca, which I have found greatly relieves the pain and stiffness of arthritis in both dogs and horses. My 9 yr. old Jack Russell is an Agility Champion, gets 1/2 tablet daily as a preventative. He is very happy at his 14″ jump height and 6′ A frames are not a problem. I want to keep him happy for as long as possible. He loves agility.

​Miriam – Kernersville, NC
With two aging German Shepherds, InflamAway Plus has been a great addition to their prescribed Rimadyl on those tougher to get by days when just getting up and down seemed difficult. Given two of these tablets daily has made all the difference in the world for them and given them more comfort and ease when they forget their age and still try to act 2 years old and not 12. I couldn't be more satisfied!
InflamAway Plus
Joint Supplement with Glucosamine Chondroitin and MSM for Dogs
Brand:
Sweetwater Nutrition